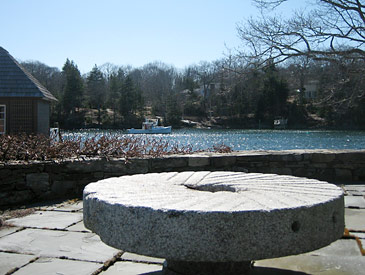 Maine Millstones will provide custom, hand-carved millstones to accommodate your upcoming landscape project.
Millstone use is limited only by your imagination! Here are a few examples to get you started. We will be happy to discuss your ideas with you and provide one or more millstones that will suit your project.
"Today we finished installation of your millstone. It was perfect and made us look really good! Thanks for making our job so easy."
-Mike Yeomans
Landscape Architect
Through the Garden Landscape, LLC
Harpers Ferry, West Virginia


FountainS
A very popular design element is the millstone garden fountain.


PATIOS & WALKWAYS
Millstones are an attractive element in patios, courtyards, pathways and drivewys.

STEPS
1/2 millstones are perfect for steps. Lovely as a single step or stacked in decreasing sizes for more two or more steps.


FOCAL POINTS
Millstones are perfect as focal points in your garden, cathing the eye and adding history and an element of nostalgia.